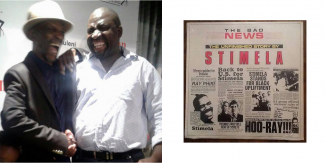 UbuntuFM Radio Africa commemorated Bra Ray Phiri on July 22, 2017 with a special tribute broadcast. Presented by King Vusi Mavuthela with special guest Mashadi Mathosa. 
Raymond Chikapa Enock Phiri (March 23, 1947 – July 12, 2017) was a South African Jazz, Fusion and Mbaqanga musician born in Mpumalanga to a Malawian immigrant worker and a South African guitarist nicknamed "Just Now" Phiri. 

The story of South Africa's all-time favourite band 'Harari'.  The significance of Harari as one of the most important bands from the late 60's to the early 80's and its influence on popular music in Southern Africa cannot be overstressed. Harari's muscial excellence and influence on generations of musicians is equal to legends like 'Third World' or 'Funkadelic'. UbuntuFM's King Vusi Mavuthela recounts their story in this chronology. 
EARLY PERIOD: THE FORMATION OF THE BAND AS 'THE BEATERS'